Published: 02 March 2018

02 March 2018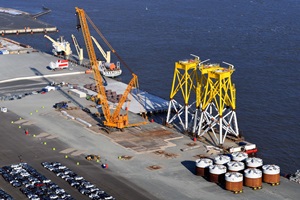 Twenty suction bucket jackets are being assembled and stored at the offshore base Cuxhaven until they are shipped to Ørsted's Borkum Riffgrund 2 wind farm site in spring. Instead of drilling into the seabed, 20 of the 56 foundations for this site are fitted with suction buckets.
At the site, GeoSea will lower the foundations onto the seabed, where the buckets are used to create negative pressure and thus attach the foundations firmly to the ground. This significantly reduces the noise emissions and helps to protect the surrounding sea life.
Large sea-going barges with three jackets each as well as coasters with suction buckets have been arriving at Cuxhaven since February. An LR 11350 crawler crane lifts the jackets from the barge and places them onto the previously positioned buckets, three per jacket. After they have been assembled, the complete suction bucket jacket structure, measuring more than 50 metres high and weighing 950 tons in total, are transported via SPMT (Self-Propelled Modular Transporter) across the heavy-duty berth to be placed in a specially prepared storage area until the installation vessel picks them up.
The wind farm site measuring 25 square kilometres lies 37 to 40 kilometres northwest of the island of Borkum and 57 kilometres from the Dutch coast. Borkum Riffgrund 2, developed and owned by Ørsted, will feature 56 Vestas turbines of the 8MW class and have a total capacity of 450MW.