Published: 02 August 2022

02 August 2022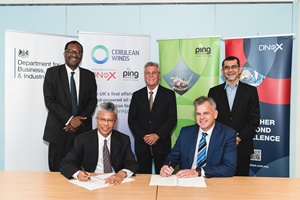 Cerulean Winds and Ping Petroleum UK have announced the signing of an agreement to create oil and gas facilities powered mainly by offshore wind. Under the agreement signed, the production facility at Ping Petroleum's Avalon site, located in the UK Central North Sea, will be mainly powered by floating offshore wind.
Ping Petroleum UK acquired a 100% stake in the Avalon site in August 2021, with production expected to begin in 2025. The field has a total estimated recovery of 23 million barrels of oil. The proposed development concept for the plans have already been cleared by the North Sea Transition Authority (NTSA), and a field development plan is to be submitted later this year. Under these plans, Cerulean Winds with its consortium of industrial partners will provide a large floating offshore wind turbine which will be connected, via a cable, to Ping Petroleum's Floating Production & Storage vessel. The floating wind turbines will provide the majority of power required by the production & storage vessel. It is expected that green power produced by the turbine will exceed the energy needs of the production vessel, with the partners exploring options to supply excess energy to other nearby production facilities. The production vessel is a 60-metre diameter facility with a storage capacity of 270,000 barrels of oil and is capable of producing up to 30,000 barrels of oil per day.

As part of the agreement with Ping, Cerulean Winds have committed to fully manufacturing and assembling the offshore wind turbine in the UK. The project was enabled by a grant to Cerulean Winds through the Floating Offshore Wind Demonstration Programme from the UK Government's Department of Business, Energy and Industrial Strategy (BEIS) to support the innovation and optimisation of the technology that will be deployed.