Published: 26 July 2023

26 July 2023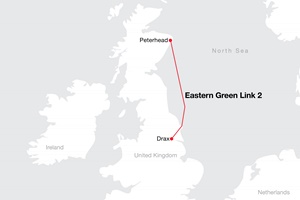 Hitachi Energ has been selected as preferred technology provider of SSEN Transmission and National Grid, to supply two high-voltage direct current (HVDC) converter stations to interconnect the Scottish and English power grids.
Eastern Green Link 2 will consist of two 525-kilovolt (kV) bipole VSC converter stations connected by 440 kilometers of subsea cable and 70 kilometers of underground cable. The link will supply a total of 2,000MW of electricity. The link will help to secure power transmission in the northern UK and support the integration of new renewable electricity generation in Scotland.