Published: 21 July 2023

21 July 2023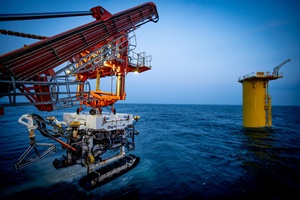 Van Oord has completed installing and burying inter-array cables at CrossWind's Hollandse Kust Noord offshore wind park. Van Oord's duo cable-laying vessel Nexus and trencher Dig-It (a remotely-operated vehicle operated from vessel Subsea Viking) have installed a web of 69 inter-array cables measuring 140 km in total.
Dutch manufacturer TKF (Twentsche Kabelfabriek) supplied the cables. Nexus, equipped with a 5,000 tonnes capacity cable carousel, installed the inter-array cables. Trencher Dig-It subsequently buried the cables to the required depth of between 1.0 and 1.5m. The offshore wind park is located 18.5 kilometres off the coast of the Netherlands, near the seaside resort of Egmond aan Zee.