Published: 17 February 2022

17 February 2022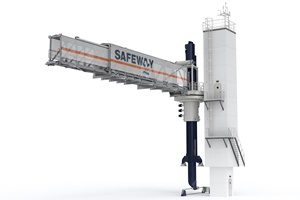 Dutch offshore access company Safeway and Kristiansand-based sister company Techano have signed a corporation agreement with Intellilift from Norway to develop an all-electric gangway for Service Operation Vessels (SOVs).
Under the agreement, Intellilift will be a preferred supplier of their technology related to power systems, automation and remote control systems. The package system includes an all-electric version of Safeway's original Gannet 3D motion-compensated gangway, elevator and 3D crane. The package may be extended with other products such as davits and winches. Key features of the autonomous gangway are:
All electric, incl. hybrid-battery
Remote operation
Bridge control system
Auto docking, hover mode
The Gannet is Safeway's most advanced type of access system for SOVs, allowing personnel to move safely between the offshore service vessel and offshore wind turbines. Made with trolley operations in mind, the Safeway Gannet has a step-less transfer and 1.2m transit width.