Published: 17 December 2019

17 December 2019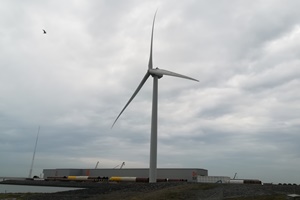 Eneco, Future Wind (a Joint Venture between Pondera Development and SIF Holding Netherlands), and GE Renewable Energy have announced that Eneco will purchase all of the electricity generated by GE's Haliade-X 12MW prototype.
The announcement was made during a ceremony to inaugurate the prototype that was recently installed at the port of Maasvlakte-Rotterdam in the Netherlands. Over the next five-year period, the Haliade-X prototype will undergo a series of tests to validate the turbine's power curve, loads, grid performance and reliability. The tests will also allow GE to validate operational procedures for installation and services teams and obtain a Type Certificate for the Haliade-X in 2020, keeping GE on track to commercialize the turbine by 2021.