Published: 18 November 2020

18 November 2020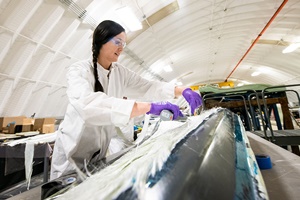 A new material for wind blades that can be recycled could transform the wind industry, rendering renewable energy more sustainable than ever before while lowering costs in the process. The use of a thermoplastic resin has been validated at the National Renewable Energy Laboratory (NREL).
Researchers demonstrated the feasibility of thermoplastic resin by manufacturing a 9-meter-long wind turbine blade using this novel resin, which was developed by a Pennsylvania company called Arkema Inc. Researchers have now validated the structural integrity of a 13-meter-long thermoplastic composite blade, also manufactured at NREL. In addition to the recyclability aspect, thermoplastic resin can enable longer, lighter-weight, and lower-cost blades. The thermoplastic resin could also allow manufactures to build blades on site, alleviating a problem the industry faces as it trends toward larger and longer blades. As blade sizes grow, so does the problem of how to transport them from a manufacturing facility.