Published: 27 September 2018

27 September 2018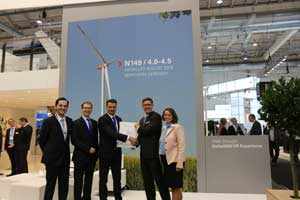 The Nordex Group received the official statement of compliance for design according to IEC and type test certificates according to DIBt for the N149/4.0-4.5 from TÜV SÜD.
As part of type certification according to international IEC standards TÜV SÜD tested and evaluated the overall concept as well as all the principal components of the N149/4.0-4.5. The turbine can be operated both with standard rotor blades and with anti-icing rotor blades for cold regions.