Published: 25 April 2019

25 April 2019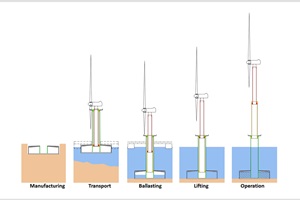 TÜV SÜD has certified the floating foundation support structure, developed by an industrial consortium headed by Esteyco. Elisa/Elican is the pilot project for the floating foundation. It combines a temporarily floating foundation and a telescopic tower.
During sea transport, the foundation acts as a floating barge and the telescopic tower is retracted to ensure stability during floating. For installation, the foundation of the support structure is lowered to the seabed and the telescopic tower extended. Within the scope of this project, TÜV SÜD developed a new certification procedure to ensure the safe and reliable use of this innovative support structure. The pilot project which will be ballasted to rest on the seabed and support the WTG during operation is a pre-stage of the development of a permanently floating foundation. The entire structure can be assembled from pre-cast parts in a dry dock, and secondly, transport and installation can be effected without the use of installation vessels and cranes.