Published: 05 January 2023

05 January 2023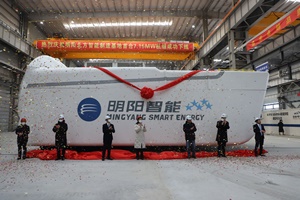 Mingyang Smart Energy has launched its MySE 8.5-216 onshore wind turbine. The new turbine is part of a new platform that also includes the recently released MySE 7.15-216.
With an 8.5 MW capacity and a rotor diameter of 216 meters, the MySE 8.5-216 can generate 200,000 kWh of power each day. Both MySE 8.5-216 and MySE 7.15-216 models are specially designed and optimised for use in desert environments with sand and cold. To ensure the turbine's reliability and adaptability, key components such as the powertrain, high-performance blades, and sand-proof nacelle will be tested both in-house and at third-party facilities.