Published: 15 February 2022

15 February 2022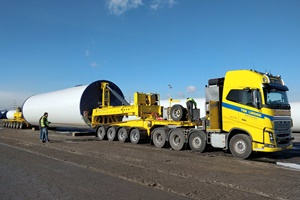 Ter Linden Transport from Doetinchem (Netherlands) was the first to receive the latest MWT-XL Mega Windmill Trailer from Nooteboom, consisting of a 4-axle Jeepdolly with lift adapter and a 7-axle self-steering dolly with lift adapter.
With the MWT-XL, Nooteboom mainly focuses on the transport of large diameter tower sections for onshore wind farms. The new MWT-XL is suitable for tower sections with different diameters up to the largest tower sections with a diameter of approx. 6,300 mm and tower sections can be loaded and unloaded completely without cranes. The trailer has a new steering system which is based on the steering principle of the Nooteboom Ballasttrailer with counter steering.
Related Articles
Blade Dynamics has shipped the "D78" assembly blade to the UK from its NASA-based facility to be structurally tested at the Offshore Renewable Energy (ORE) Cata

Siemens AG offered a swap transaction with French rival Alstom SA to create a European champion in the fields of energy and transportation, in a bid to counter an offer by U.S. rival General Electric ...Windtech International - Windtech International is the worldwide information magazine for the wind energy industry. It provides the ideal forum for the promotion and explanation of new products, techniques and applications. This trusted and well-respected source of information is read regularly by an increasing readership

Dudgeon Offshore Wind (owned by Statoil ASA and Statkraft) has awarded Seaway Heavy Lifting the contract for the transportation and installation of 67 foundations and 1 substation as part of the Dudge ...Windtech International - Windtech International is the worldwide information magazine for the wind energy industry. It provides the ideal forum for the promotion and explanation of new products, techniques and applications. This trusted and well-respected source of information is read regularly by an increasing readership

Alstom has secured the first Nordic order for its wind turbines by signing a contract with TuuliMuukko Oy for the Muukko wind farm near Lappeenranta in Eastern Finland. The agreement includes the su ...Windtech International - Windtech International is the worldwide information magazine for the wind energy industry. It provides the ideal forum for the promotion and explanation of new products, techniques and applications. This trusted and well-respected source of information is read regularly by an increasing readership

Developing Energy Storage Solutions for the Electric Utility and Transportation IndustriesAt the most fundamental level, energy storage – like storage in any other supply chain – fulfils a very basic ...Windtech International - Windtech International is the worldwide information magazine for the wind energy industry. It provides the ideal forum for the promotion and explanation of new products, techniques and applications. This trusted and well-respected source of information is read regularly by an increasing readership

Danotek has named Ramon Guitart Vice President of Engineering. Mr. Guitart will oversee the engineering staff responsible for the development of generators, motors, and power electronics. He will le ...Windtech International - Windtech International is the worldwide information magazine for the wind energy industry. It provides the ideal forum for the promotion and explanation of new products, techniques and applications. This trusted and well-respected source of information is read regularly by an increasing readership

A2SEA signed a MOU a cooperation agreement with Teekay Corporation. The aim is to design, deliver and operate floating transportation and installation vessels

Vestas has received a firm and unconditional order for 43 V90-1.8 MW wind turbines for Argentina from Emgasud S.A. The Rawson I Wind Farm & Rawson II Wind Farm will be built in the Chubut Province a ...Windtech International - Windtech International is the worldwide information magazine for the wind energy industry. It provides the ideal forum for the promotion and explanation of new products, techniques and applications. This trusted and well-respected source of information is read regularly by an increasing readership

Vestas has received a firm and unconditional order for four projects from a customer in Brazil. At the customer's request, additional details about the customer and the projects cannot be disclosed. ...Windtech International - Windtech International is the worldwide information magazine for the wind energy industry. It provides the ideal forum for the promotion and explanation of new products, techniques and applications. This trusted and well-respected source of information is read regularly by an increasing readership

How Direct Drive helps in the Transportation of Large Wind Turbines Some years ago the NewGen generator was presented as a way of making direct-drive wind turbines more economic. Here, the originator ...Windtech International - Windtech International is the worldwide information magazine for the wind energy industry. It provides the ideal forum for the promotion and explanation of new products, techniques and applications. This trusted and well-respected source of information is read regularly by an increasing readership

What Makes Taller Towers Attractive to Developers? Developers are seeing their turbine costs, transportation costs and installation costs going up and the potential of their new turbines curtailed by ...Windtech International - Windtech International is the worldwide information magazine for the wind energy industry. It provides the ideal forum for the promotion and explanation of new products, techniques and applications. This trusted and well-respected source of information is read regularly by an increasing readership

GE Drivetrain Technologies, a unit of GE Transportation, has announced that the company has launched a wind generator and control systems division to serve its wind turbine customers around the globe. ...Windtech International - Windtech International is the worldwide information magazine for the wind energy industry. It provides the ideal forum for the promotion and explanation of new products, techniques and applications. This trusted and well-respected source of information is read regularly by an increasing readership