Published: 14 May 2021

14 May 2021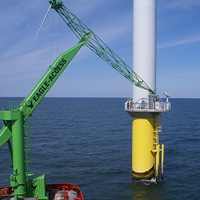 Eagle-Access has tested its new access system, installed at the vessel VOS Star, at the Horns Rev 2 offshore wind farm in Denmark. During the test around 150 people were transferred and they also performed about 300 transfers with and without cargo.
Eagle-Access allows a wide range of 270 degrees of possible vessel headings. For testing reasons not only the most common and comfortable headings, but also the more unfavourable vessel headings were chosen. Optimal headings for the vessel are always possible due to the large reach and mounting on the aft of the vessel and 360 degrees rotation of the system. The vessel used for the sea trials was the VOS Star, a DP2 vessel of 68 x 15 meter. After being brought to the quay in IJmuiden (Netherlands) by road transport, the Eagle was installed on the vessel deck. Once installed on the deck, the Eagle was immediately available and used for deck-to-quay handling of 1 ton loads. For passengers to be transferred it is a short walk on deck to the landing station with cabin. With finishing the test phase, the system is now commercially available.