Published: 26 July 2018

26 July 2018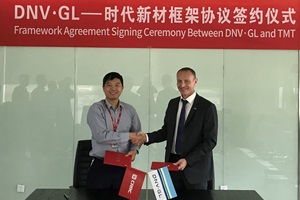 DNV GL has signed a framework agreement with Chinese wind turbine blade manufacturer Zhuzhou Times New Material Technology (TMT). The deal covers a range of certification and design assessment services.
The rolling agreement covers services including component certification, design assessment and lightning protection reviews, shop approval, laboratory approval as well as allowing TMT closer links to DNV GL-led industry research projects, which promote industry-wide cooperation on new solutions, standards and recommended practices.