Published: 21 June 2021

21 June 2021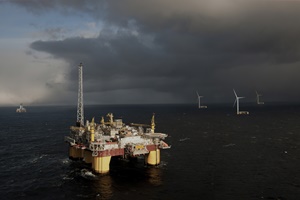 DNV has completed a concept verification review of Odfjell Oceanwind's WindGrid system for Mobile Offshore Wind Units (MOWUs).
DNV's review confirms the technical feasibility of the WindGrid system, and that expected reductions in CO2-emissions for North Sea applications are in the range of 60-70%, compared to generation of electricity from conventional gas turbines. Odfjell's WindGrid is a solution for providing an uninterrupted power supply from Mobile Offshore Wind Units (MOWUs) to micro-grids. It combines energy storage, grid converters and floating wind turbines in order to enable gas turbine generators to be shut down during peak wind power production.