Published: 28 August 2018

28 August 2018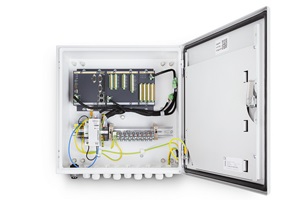 The new AIC214 Condition Monitoring module from Bachmann introduces a range of additional features. The specification includes three extra IEPE channels (which not only measure but also power the sensors) and an increased range of selectable sample rates and filters.
The new module features improved signal-to-noise ratio performance through 24bit A-D resolution, giving a dynamic range in excess of 95 decibel. Bachmann is also launching the cut down four channel version AIC206 which provides the same functionality in a reduced-cost package.
Bachmann's first plug in – the Blade Unbalance Calculator – provides a measure of rotor unbalance based on a single additional accelerometer, a 2D MEMS motion sensor added in the nacelle. The calculator uses a mathematical model of the tower to identify both mass and aerodynamic unbalance from this motion. The calculation is merged with the normal condition monitoring functions. The Bachmann team is currently working a sensor designated for blade monitoring. This sensor detects the bending of the blade, which is something that can be used for detecting ice, monitoring the fatigue loads and changing the control to pitch the blades individually to get the most power from the wind.