Published: 08 June 2022

08 June 2022
The Renewables Consulting Group (RCG) finds that global offshore wind development capacity grew 89% in 2021. More than 200 GW of new offshore wind projects were announced in both established markets, such as the United Kingdom and Netherlands, and new markets, such as Italy and Australia.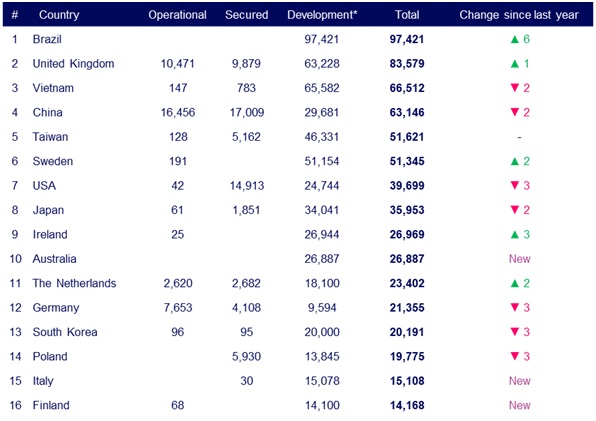 According to RCG's 2021 Global Offshore Wind Annual Market Report, there is also a new No. 1 in the global rankings as Brazil moved to first place with a total surpassing 97 GW, all in development. The United Kingdom, with 10.5 GW operational and 9.8 GW secured, ranks second with 83.6 GW total. Vietnam, with 65.6 GW in development, continues its pipeline. Ranking fourth is China, which installed nearly 8 GW of capacity throughout 2021. China's growth through 2020 and 2021 is, in part, driven by the expiry of the feed-in tariff at the end of 2021. Taiwan rounds out the top five with a total of 51.6 GW. Notably, Australia (#10), Italy (#15) and Finland (#16) are new entrants.
The predominant theme, however, was leasing activity – particularly across Europe. Scotland allocated almost 25 GW of capacity in the Scotwind process, its first offshore leasing round in a decade. The f irst contract for differences (CFD) round for offshore wind projects took place in Poland, with 5.9 GW of capacity securing a route to market. The first new auction for projects under Germany's offshore wind act also occurred. The first commercial-scale floating wind project auction in France was launched. In the Asia Pacific region, Japan's first offshore wind auctions took place, securing a route to market for 1.7 GW of capacity. Rules were refined for the long-awaited Round 3 auctions in Taiwan, clarifying local content requirements and available development areas. Further south still, the Australian government detailed the permitting process required for projects to obtain seabed exclusivity throughout the development lifecycle of an offshore wind farm. In the Americas, The US Department of the Interior's Bureau of Ocean Energy Management (BOEM) announced it would hold up to seven new offshore wind lease sales by 2025 in the New York Bight, of f the coasts of the Carolinas, California and Oregon, as well as in the Central Atlantic, Gulf of Mexico and the Gulf of Maine.