Published: 11 April 2023

11 April 2023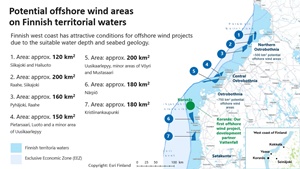 Finland will be launching five competitive tendering processes for more than 6,000MW of offshore wind power on its territorial waters along the western coast of the country.
Zoning initiatives for the first five projects have been submitted to the local municipalities. The municipalities in question are Siikajoki, Hailuoto, Pyhäjoki and Raahe (areas 1, 2 and 3 in the attached map), Närpiö (area 6) and Kristiinankaupunki (area 7). All sites have been identified as areas suitable for offshore wind power generation in preliminary studies. The sites have optimal conditions e.g. in terms of water depth, geological structure of the seabed, electricity transmission alternatives and shipping routes. The planned areas have also received permission from the Finnish Defence Forces.
In addition to the five projects that are now taken forward, Finland has identified two other offshore wind farm areas (areas 4 and 5 on the map) on the west coast. The further development of these two projects will depend e.g. on the survey capacity in Finland and decisions on their development will be taken later.
The partners for the constructing and operating of the planned offshore wind farms will be selected through a competitive, open and non-discriminatory tendering process. The partner selection will be made based on both quantitative and qualitative criteria. Two projects are planned to be opened for tendering already in September-October this year and additional two projects next year. Decision on the fifth project will be made later.