Published: 11 May 2023

11 May 2023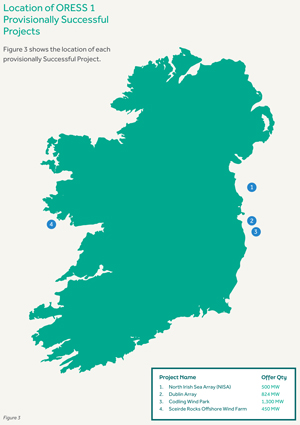 The Irish Minister for the Environment, Climate and Communications, Eamon Ryan, has today welcomed the provisional results of the first offshore wind auction under the Renewable Electricity Support Scheme (ORESS 1).
ORESS is an auction-based process which invites renewable energy projects to compete against each other, by bidding as low as possible, in order to win contracts to provide electricity at the bid price for a twenty-year period.
The auction results have surpassed expectations, both in terms of the total volume of renewable energy procured and the low price at which it has been secured (average of €86.05/MWh). Over 3GW of capacity has been procured from four offshore wind projects, which will deliver over 12TWh (terawatt hours) of renewable electricity per year.
The results announced today are provisional and are subject to the normal RESS confirmation and State Aid processes, both of which are expected to be complete by mid-June.
Under the community benefit fund provisions of ORESS 1, the successful projects are required to make payments to local marine and coastal communities hosting offshore renewable energy projects. These communities will now benefit from over €24 million per year, beginning before construction and continuing for up to 20 years after a project begins to produce renewable energy.
Details of the provisionally Successful Applicants are as follows:
| | | | |
| --- | --- | --- | --- |
| Applicant Reference | Successful Applicant | Successful Project | Offer Quantity (MW) |
| ORESS 1-0310 | Kish Offshore Wind Limited and Bray Offshore Wind Limited | Dublin Array | 824 |
| ORESS 1-0311 | Fuinneamh Sceirde Teoranta | Sceirde Rocks Offshore Wind Farm | 450 |
| ORESS 1-0312 | North Irish Sea Array Windfarm Limited | North Irish Sea Array (NISA) | 500 |
| ORESS 1-0313 | Codling Wind Park Limited | Codling Wind Park | 1,300 |