Published: 12 May 2023

12 May 2023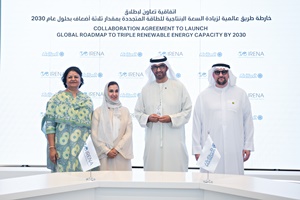 Masdar has signed an agreement with the International Renewable Energy Agency (IRENA) to cooperate on an international knowledge project setting out the means to triple global renewable energy capacity by 2030.
The main objective of the project is to establish a global baseline for renewable energy, with a focus on solar, wind, hydropower, geothermal, and other technologies including battery storage, complemented by region-specific data. The project will also highlight the challenges faced by different regions in meeting their renewable energy ambitions and provide recommendations for action.