Published: 16 April 2021

16 April 2021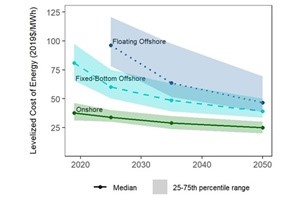 Technology and commercial advancements are expected to continue to drive down the cost of wind energy, according to a survey led by Lawrence Berkeley National Laboratory (Berkeley Lab). Experts anticipate cost reductions of 17%-35% by 2035 and 37%-49% by 2050, driven by bigger and more efficient turbines, lower capital and operating costs, and other advancements.
The study summarises a global survey of 140 wind experts on three wind applications – onshore wind, fixed-bottom offshore wind, and floating offshore wind. The study also uncovered insights on the possible magnitude of and drivers for cost reductions, anticipated technology trends, and grid-system value-enhancement measures.
There are five key factors that impact the levelised cost of energy: upfront capital cost, ongoing operating costs, capacity factor, project design life, and cost of financing. Experts anticipate continued improvements across all dimensions, with the relative contribution varying by wind application. A key driver in these improvements is turbine size, according to experts. For onshore wind, growth is expected not only in generator ratings (to 5.5MW] on average in 2035, up from 2.5MW in 2019) but also in two other factors that increase capacity – rotor diameters and hub heights. Offshore wind turbines are expected to get even bigger, to 17MW on average in 2035, up from 6MW in 2019. Floating offshore wind is anticipated to gain market share, growing from its current pre-commercial state and accounting for up to 25% of new offshore wind projects by 2035.