Published: 28 March 2022

28 March 2022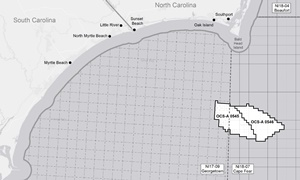 The Department of the Interior announced today that the Bureau of Ocean Energy Management (BOEM) has completed its environmental review and will hold a wind energy auction for two lease areas offshore the Carolinas on May 11.
The lease areas cover 110,091 acres in the Carolina Long Bay area that, if developed, could result in at least 1.3 gigawatts of offshore wind energy. The Carolina Long Bay offshore wind energy auction will allow offshore wind developers to bid on one or both of the lease areas within the Wilmington East Wind Energy Area (WEA). The two lease areas include similar acreage, distance to shore, and wind resource potential. BOEM will offer a 20 percent credit to bidders if they commit to invest in programs that will advance U.S. offshore wind energy workforce training or supply chain development.