Published: 29 October 2020

29 October 2020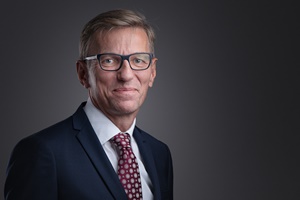 Vestas Wind Systems and Mitsubishi Heavy Industries (MHI) have signed an agreement that Vestas will acquire MHI's shares in the MHI Vestas Offshore Wind (MVOW) joint venture, against MHI acquiring 2.5 percent in Vestas and being nominated to a seat in Vestas' Board of Directors.
The transaction has a value of approx. EUR 709 million. Vestas' planning of the expected integration of MVOW into the Vestas group will commence immediately and run until transaction closing, focusing on synergies in sales, technology, manufacturing footprint and procurement.
Mitsubishi Heavy Industries (MHI) and Vestas Wind Systems (Vestas) have appointed Johnny Thomsen as CEO of MHI Vestas Offshore Wind A/S, taking over from Philippe Kavafyan who has left the company after two and half year as CEO. Until transaction closing, the executive management of MVOW will consist of Johnny Thomsen, CEO of MVOW, Tatsuichiro Honda, Co-Chief Executive Officer and Chief Financial Officer of MVOW, Kentaro Hosomi, Deputy Chairman of MVOW and CEO, Energy Systems, MHI, and Henrik Andersen, Chairman of MVOW and Group President and CEO of Vestas.

On a stand-alone basis, MVOW is expected to report a consolidated revenue for 2020 of approx. EUR 1.4bn, with an EBIT margin of around 4 percent. Closing of the transaction is expected to take place within either the fourth quarter of 2020 or the first quarter of 2021.
Vestas and MHI will also plan for collaborating in green hydrogen as well as a joint venture in Japan to secure accelerated growth for onshore and offshore wind energy. In Japan, the two companies will establish a joint venture for sales of onshore and offshore wind power turbines and Vestas will as part of the collaboration plan for establishing parts of its regional supply chain and production in Japan should market volume and cost-competitiveness allow.