Published: 16 August 2021

16 August 2021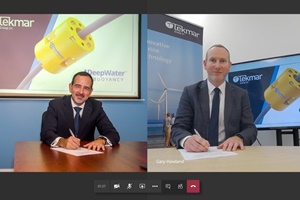 Tekmar Group (UK) has announced it has signed a Memorandum of Understanding (MOU) with DeepWater Buoyancy (DeepWater) (USA). Under the MOU, the companies will bring together their complementary engineering capabilities, and track records in their respective fields.
The partnership is focused on the new and emerging floating offshore wind market. The companies will be offering a collective package of geotechnical assessment and engineering analysis, cable and mooring system design, cable protection and stabilisation solutions, cable buoyancy, and mooring line buoyancy. Additionally, they will offer bespoke product solutions for the unique elements of floating offshore wind projects, such as cable disconnection systems. The partnership further supports Tekmar Group's organic growth strategy by strengthening its presence and manufacturing capability in the US fixed offshore wind market. The partnership also provides DeepWater with greater access to the European market, where their products complement Tekmar Group's existing offering.