Published: 27 July 2022

27 July 2022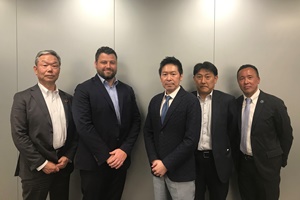 Gavin & Doherty Geosolutions (GDG), founded in Dublin in 2011, has signed a Memorandums Of Understanding (MoU) with two companies from Japan to offer its service for the Japanese offshore wind market.
The development of offshore wind farms in Japan brings some unique challenges, such as earthquakes, typhoons and unusual geological formation. In this new collaboration, GDG will combine their expertise in offshore engineering and geoscience with the local Japanese knowledge of Geo Marine Service and Nikken Sekkei, to offer survey specification, wind turbine foundation design and certification process support to the Japanese offshore wind market. The Basic Energy Plan, issued by the Japanese Government, has set a target of 45,000MW of offshore wind by 2040.