Published: 06 June 2018

06 June 2018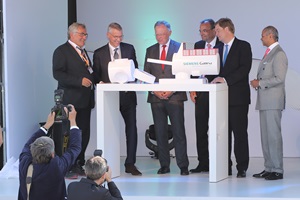 Siemens Gamesa Renewable Energy (SGRE) has officially inaugurated its nacelle plant in Cuxhaven, Germany. At this production facility, Siemens Gamesa assembles the nacelles for offshore wind turbines.
With a total investment of around € 200 million, the Cuxhaven factory is expected to employ some 850 people in and at the Cuxhaven plant by the end of this year. More than half of these employees will work directly in manufacturing. Construction work on the 55,000 square meter factory began in June 2016 and production has been underway since mid-2017, initially during the usual ramp-up phase. The new Siemens Gamesa offshore nacelle factory is built in close proximity to the edge of the Germany North Sea port, allowing the direct transport of large and heavy wind turbine components by ship from the plant to wind power plants at sea.