Published: 15 February 2019

15 February 2019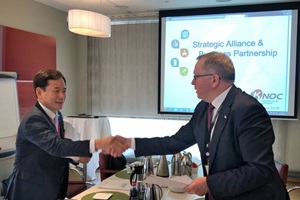 Korea National Oil Corporation (KNOC) and Equinor have signed a Memorandum of Understanding to jointly explore the opportunities to develop commercial floating offshore wind in South Korea.
KNOC plans to actively focus on progress and de-risking studies including feasibility studies in collaboration with Equinor. KNOC is launching a new business by developing floating offshore wind, building on their offshore development experiences. KNOC is looking to develop a 200 MW floating offshore wind project at their existing Donghae platform 58 km off the coast of Ulsan City. KNOC is 100% owned by the South Korean state.