Published: 12 April 2022

12 April 2022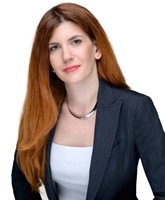 OWC has announced the appointment of Dr. Mariangela Sfouni-Grigoriadou as Senior Cable Engineering Consultant. Dr. Mariangela Sfouni-Grigoriadou joins OWC's Subsea Cables team under team lead Daniele Caruso.
Sfouni holds an MEng in Civil Engineering and an MSc(Hons) in Water Resources and Environment. She has obtained a PhD in Hydralic Engineering with her research focused on submarine flows as potential geohazard for subsea infrastructure. For the past three years, she had been working in Hellenic Cables as a senior engineer for subsea interconnections. Based in Athens, Sfouni also adds to OWC's team in Greece, and will support in driving the development of OWC services in the Greek market.