Published: 01 July 2020

01 July 2020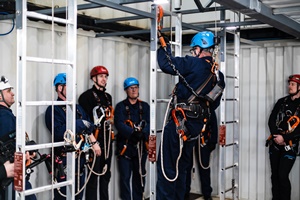 Maersk Training in the UK has announced an agreement with Babcock Marine Training, part of the Babcock International Group, to develop a custom-built wind energy training facility in Paisley, Scotland, UK.
The modular training unit, a design using recycled and modified freight containers, offers quick deployment and a solution to take training capabilities to clients. The concept has already been tried and tested for the renewables industry in the North West of England, providing delegate training on the Walney Wind Farm, and in Taiwan, where the modular unit was deployed to support the construction and development of a wind energy training facility. The Paisley facility has been purpose-built to deliver a wide range of Global Wind Organisation (GWO) accredited courses including GWO Basic Safety Training (Onshore), GWO Advanced Rescue and GWO Slinger Signaller.