Published: 14 June 2018

14 June 2018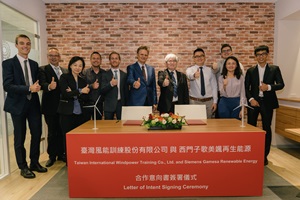 Taiwan International Windpower Training Corporation (TIWTC) and Siemens Gamesa Renewable Energy have signed a Letter of Intent (LoI) to collaborate in establishing a Global Wind Organization (GWO) training centre in Taichung, Taiwan. The non-binding LoI covers the collaboration of TIWTC and SGRE on the implementation of international GWO training programs.
Siemens Gamesa also intends to use the centre for the training of its staff in Taiwan. A timeline has not been set for finalisation of the cooperation agreement. TIWTC was established earlier in May 2018, as a joint-venture between TIPC, Taiwan Power Company (TPC), CWind Taiwan, China Steel Corporation (CSC), China Ship Building Corporation (CSBC), and Swancor Renewable Energy. The company's purpose is to set up a GWO training center in Taichung harbor, in order to provide courses to domestic and international wind power industry personnel. Start of construction is planned for Q3 2018, in order to enable the beginning of trial operations as soon as Q1 2019.