Published: 08 September 2022

08 September 2022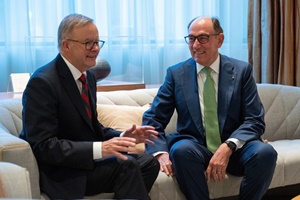 As the Senate voted to approve Australia's new climate targets, Iberdrola has earmarked A$4.4 billion in investments to help deliver the country's energy transition.
Ignacio Galán, Iberdrola's chairman and CEO, met on 7th September in Canberra with both Prime Minister Anthony Albanese and Chris Bowen, Federal Minister for Climate Change and Energy. Mr Galán outlined his company's plans to deliver new renewable energy capacity, battery storage, green hydrogen projects and invest in transmission networks. This week Mr Galán has also met with the Premier of Victoria and the Treasurer and Energy Minister of New South Wales, as well as Australian investors.
Iberdrola is currently developing are the 1,000 MW Mount James wind farm and the 360 MW Broadsound solar plant, both in Queensland. Today Iberdrola has 1,062 MW of renewable energy installed (wind, solar and batteries) in Australia – and a further 390MW under construction.