Published: 29 April 2021

29 April 2021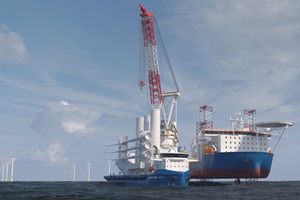 The Steady Top Feeder Vessel (STFV)is a solution for the transportation and feedering of offshore wind turbines. This specially designed transport vessel will be able to load wind turbine components in port and transport them directly to the field.
At the site, in dynamic positioning mode, a dedicated wind turbine installation Jack-up will be able to lift-off the components from a motion compensation platform. The motion-compensation system is a solution based on the existing
BM-T700
platform by BargeMaster. Via the skidding system, components are transferred from storage position to the motion-compensation platform for lift-off. Particularly in the case of the USA, where the Jones Act requires US flagged vessels to be used for the transportation of wind turbine components and where there are limited ports which can be accessed by large jack-ups, the STFV provides an attractive alternative or complement to the traditional self-transiting installation jack-up concept.