Published: 16 March 2021

16 March 2021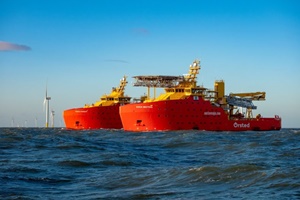 Edda Wind orders two Commissioning Service Operation Vessels (CSOV) in addition to the four vessels the company has under construction. The vessels are specially designed for service operations during the commissioning and operation of offshore wind farms.
The newbuilds will be built at Astilleros Gondan in Spain, with a planned delivery in 2023 and 2024. The 89.3 meters in length vessels will function as mother ships for wind turbine technicians as they perform commissioning and maintenance work on the wind turbines. The vessels can accommodate up to 97 technicians and 23 marine crew onboard and have a motion compensated gangway system with an adjustable pedestal. Based on the anticipated growth of the company, the board has also decided to invite investors to take part in the growth of Edda Wind and will seek listing on Euronext Growth.