Published: 15 March 2022

15 March 2022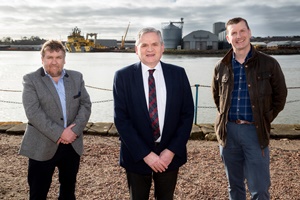 Balmoral Comtec has agreed to invest a seven-figure sum to create a composites manufacturing facility on the quayside at Montrose Port where large scale components for the offshore energy sector will be built.
To house the new facility, Balmoral has leased almost 1700sqm of warehouse space from Montrose Port Authority and will install machinery and equipment required to build and manoeuvre the parts destined for the North Sea and other energy markets. The company already provide cable protection and buoyancy solutions to the offshore wind sector and this investment will allow it to deliver composites structures direct from shore to ship.