Published: 16 February 2023

16 February 2023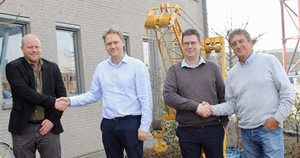 To support the further growth of Tugdock, Sarens have invested in the start-up company, which is based in Cornwall, UK. The partnership will enable the two companies to offer a solution to the fast-growing floating offshore wind industry.
Very few of the world's ports have sufficient water depth and assembly quay space to build the turbine floaters required and conventional dry docks are not wide enough as they were originally designed for ships. Tugdock's marine buoyancy bag technology allows floating dry docks to be delivered by road in modular form and assembled at the port to dimensions far wider than most of the world's existing dry docks. The submersible floating dry docks can operate with as little as 5 metres draft. The platform is then towed to deeper water for launching of the turbines.