Published: 04 March 2022

04 March 2022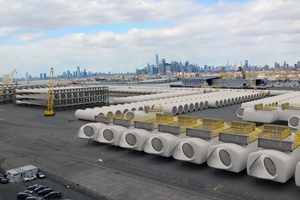 Equinor, and its partner bp, have announced an agreement to turn the South Brooklyn Marine Terminal (SBMT) complex in Brooklyn, New York into a regional hub for offshore wind.
The agreement was co-signed by terminal operator Sustainable South Brooklyn Marine Terminal (SSBMT) and New York City Economic Development Corporation (NYCEDC). Equinor and bp will create an operations and maintenance (O&M) hub and staging area at SBMT, with a total investment of USD 200 – USD 250 million in infrastructure upgrades, while also pursuing the development of SBMT as a low-emissions facility. The port will become a staging facility for Equinor and bp's Empire Wind and Beacon Wind projects that will supply 3.3GW of energy as well as become a go-to destination for future offshore wind projects in the region. Equinor recently announced the opening of the New York offshore wind project office, adjacent to SBMT in Industry City, to serve as the hub for Equinor and bp's regional offshore wind activities.