Published: 10 April 2017

10 April 2017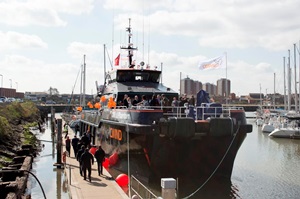 CWind has officially named their new vessel, the CWind Phantom. CWind Phantom is a 27 metres aluminium catamaran Crew Transfer Vessel (CTV). The CWind Phantom can carry up to 12 passengers, with berths for eight people overnight.
The CWind CTV fleet now totals 18, with access to additional cable installation and maintenance vessels as part of the Global Marine Group. Having undergone a mini-refit since being purchased in February, the vessel is now ready and available for project work.