Published: 06 April 2017

06 April 2017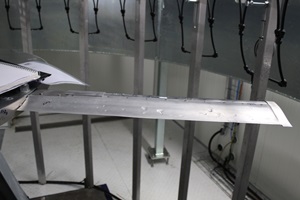 A new test rig, designed to simulate the erosion caused by the impact of water droplets on a wind turbine blade during operation, is being installed at the Offshore Renewable Energy (ORE) Catapult's National Renewable Energy Centre in Blyth.
The rig arrived on site this week, and ORE Catapult is now working on a commissioning and rig performance analysis programme with a view to having the new test facility available from July 2017. It will enhance Catapult's blade testing capabilities and research activities, enabling the technology innovation centre to provide engineering and technical analysis and interpretation of test results for customers and research programmes.