Published: 11 February 2020

11 February 2020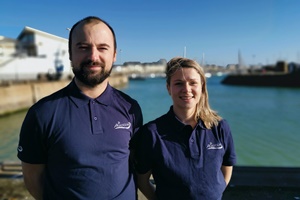 Two new recruits have joined Akrocean to strengthen the company. Ninon Crusson, graduate of a master's degree in Digital Marketing and Business from EFAP, having done her final internship at Geps Techno in 2019, is recruited as Communication and Marketing Manager. Ninon will share her time between Geps Techno and Akrocean.
Nicolas Lariviere-Gillet, joined Akrocean as Sales and Project Manager. Nicolas previously held positions in the development of onshore wind projects and then in a certification company. A graduate of the MRE Master's Degree from ENSTA in Brest, he will strengthen the commercial and project management capacity, in particular for the deployment of the Flyr'Sea floating avifauna radar designed to qualify the migratory movements of birds and chiropterans on offshore wind sites.
Further the company has just been awarded the contract to supply wind data for 12 months at the Thor offshore wind farm by Energinet. Energinet is an independent public enterprise owned by the Danish Ministry of Climate, Energy and Utilities. It owns, operates and develops the transmission systems for electricity and natural gas in Denmark.