Published: 15 August 2022

15 August 2022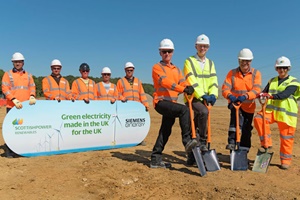 ScottishPower Renewables has kicked off the construction of its second wind farm off the Suffolk coast. East Anglia Three is part of the East Anglia Hub and has a capacity of 1,400MW.
The initial focus of the East Anglia Three construction programme will be on the onshore converter station at Bramford in Suffolk – in partnership with Siemens Energy and Aker Solutions – and along the cable route, working with contractor, NKT. Work on the construction access road at the onshore converter station has started and drainage and earthworks are expected to be completed by the end of the year. Highway works for the three construction compounds along the cable corridor are also underway, with three access roads and one compound expected to be complete by the end of August. East Anglia Three will follow the same cable corridor as SPR's offshore wind farm – East Anglia ONE – meaning there is no need to create new cable trenches.