Published: 10 August 2023

10 August 2023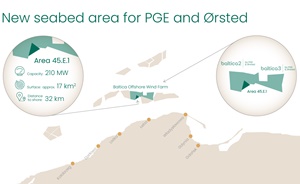 PGE Group and Ørsted have been granted a new seabed area for development in the Baltic Sea, thanks to a decision by Poland's Ministry of Infrastructure.
This decision will allow them to embark on a development venture of up to 210MW in the 45.E.1 area within the Baltic Sea. The permit was granted after a joint application was submitted by both PGE and Ørsted. This fresh seabed allocation is situated adjacent to the ongoing development of the Baltica Offshore Wind Farm, a collaborative effort between the two companies. The project has been tentatively named Baltica 2+. This expansive seabed area, encompassing approximately 17 square kilometers, lies about 32 kilometers from the shoreline.