Published: 10 August 2023

10 August 2023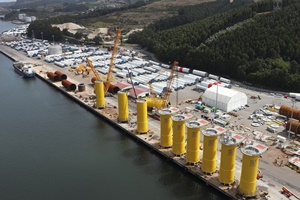 Windar Renovables has signed an agreement with Iberdrola to manufacture 21 transition pieces for the Windanker offshore wind farm in German waters. The manufacture of the 21 transition pieces will require more than 450,000 hours of work, generating 400 jobs.
Production is scheduled to start at the end of 2024 and deliveries are expected to be made by the end of summer 2025 approximately. Each of these elements will have a maximum height of 17 metres, a diameter of 8 metres and a weight of 400 tonnes. Windanker, which will be located in German waters of the Baltic Sea, will have a capacity of 315MW, and consists of turbines with a unit capacity of approximately 15 MW.