Published: 21 October 2020

21 October 2020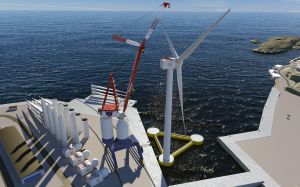 The Norwegian Wergeland Group and PSW Group have announced that they have signed a Letter of Intent with Huisman for the delivery of a Skyhook quayside crane at the Gulen Industrial Harbour, Norway.
The Skyhook crane has a lifting capacity of 2,600mt in regular configuration as well as a 'high lift' mode with a super flyjib, facilitating the assembly of offshore wind turbines. The crane will be deployed at the Gulen Industrial Harbour, the base of Wergeland and near PSW Group in Mongstad, providing additional potential for both decommissioning work as well as for outfitting the next generation deepwater semi-submersibles in the port's 100-metre wide dock.