Published: 16 March 2017

16 March 2017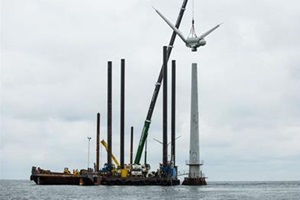 DONG Energy has decided to retire "Vindeby", the world's first offshore wind farm, which 25 years ago marked the birth of the offshore wind industry. Vindeby Offshore Wind Farm, consisting of 11 offshore wind turbines, was connected to the grid in 1991.The blades, nacelle and tower will be dismantled and taken down individually by a mobile crane on board a jack-up vessel. The concrete foundations will be broken down on site, mainly by hydraulic demolition shears, and collected afterwards.
All wind turbine components and foundations will be sent onshore to Nyborg Harbour where the components will be reused as much as possible as spare parts for other wind turbines. Some of the blades will become part of a research project at DTU Risø while others will be reused in a new noise barrier concept. One wind turbine will also become part of the exhibition at 'Energimuseet' (the Danish Museum of Energy). Components that are not immediately reusable will be transported to a certified recovery company. During its entire lifetime, Vindeby Offshore Wind Farm has produced 243GWh of power. The turbines for Vindeby Offshore Wind Farm were supplied by Bonus Energi, now Siemens Wind Power, and the foundations were produced by MT Højgaard.