Published: 06 September 2017

06 September 2017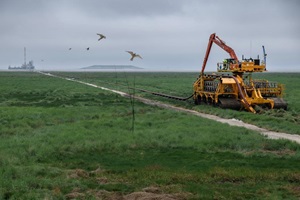 Jan De Nul Group has completed the installation and burial of the export cables for DONG Energy's Race Bank Wind Farm in the UK. Jan De Nul installed two export cables of 70 km across one of England's most important natural habitats and linked the two offshore substations with an interconnector of 6 km.
To execute the nearshore works across the saltmarsh in the Wash, Jan De Nul Group developed and built the low ground pressure cable installation and burial tools Sunfish and Moonfish. Both machines were deployed from Jan De Nul's cable installation barge DN120. Offshore cable installation vessel Isaac Newton was used for the cable installation and jointing works as well asfor the cable burial works with onboard trencher UTV1200 across the shallow Docking Shoals.