Published: 26 February 2018

26 February 2018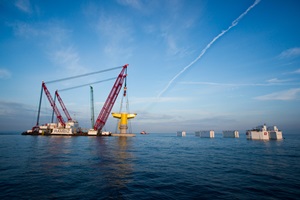 The project team of Jan De Nul Group floated off and installed the second and even larger gravity based foundation (GBF) for the offshore wind farm Kriegers Flak in Denmark. The barge containing the GBF submerged, the heavy lift vessel Rambiz connected to the GBF through its crane hooks and towed out the structure once it started to float.
An assisting tug subsequently towed the Rambiz together with the structure to its final installation location where the vessel in combination with an in-house designed ballast module set the structure down onto the seabed. Both GBFs have been installed on a gravel bedding layer which has been accurately prepared by Jan De Nul Group's multipurpose vessel Adhémar de Saint-Venant. As a result, this structure has been set down within a vertical accuracy of 0.01 degrees. The Adhémar de Saint-Venant will now start with the ballasting of the structures and the scour protection works around them. Both foundations were constructed by Jan De Nul Group on a barge in the Port of Ostend in Belgium. The barge was towed to Denmark on 8 January 2018.