Published: 26 February 2018

26 February 2018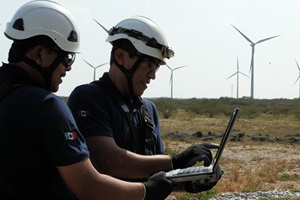 Ingeteam has announced that it has been awarded a contract by the Mexican renewable energy developer Zuma Energía to provide a control center for its operational wind farm in Oaxaca, PE Ingenio, Mexico. The platform will collect all the relevant information on the infrastructure of the wind farms in real time. The control center will be the cornerstone of Zuma's asset performance management.
It will allow them to gather and analyse a vast array of essential operating data, not only on the wind turbines and substations, but also on the electricity market and the variations of meteorological conditions. The control systems collect the continuous stream of information that each wind turbine generates every second. All key condition parameters, such as temperatures, vibrations, operating conditions and alarms are monitored and stored in "Big Data" databases optimised to work with large volumes of data in real time in a scalable way. The Control Center will be located in the offices of Zuma Energía in Mexico City.