Published: 23 July 2018

23 July 2018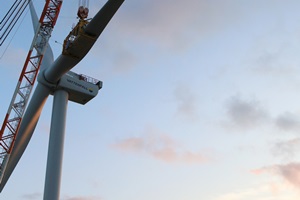 The first of 49 turbines at Horns Rev 3 was installed. This is the first time in five years a new offshore wind farm is being constructed in Denmark. Horns Rev 3 will have an installed capacity of 406MW.
The turbines are produced by MHI Vestas and shipped from Port of Esbjerg on the west coast of Denmark. The installation of the turbines is expected to last until November and the farm is expected to be in full operation at the beginning of 2019. In addition to Horns Rev 3, Vattenfall is developing the offshore wind farms Vesterhav Syd & Nord in the North Sea and Kriegers Flak in the Baltic Sea.