Published: 18 March 2022

18 March 2022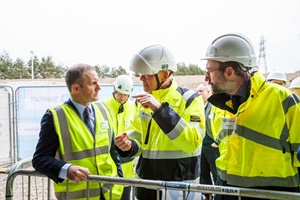 UK Cabinet secretary for Net Zero, Energy and Transport, Michael Matheson was in Moray to unveil a project which will help increase the amount of renewable energy delivered via the national grid network.
The Keith Greener Grid Park is a project pioneered by Statkraft in association with the National Grid Electricity System Operator (NGESO). Addressing the need for grid stability, the project uses two rotating stabilisers, manufactured by GE Power Conversion, to increase the amount of renewable energy that can utilised on the grid. Statkraft's £25 million project, mimics the spinning turbines of a traditional power station, which have helped to balance the grid's frequency at about 50 hertz for decades. A £44million deal between Statkraft and NGESO will see a similar site become operational in Liverpool, and Statkraft say they plan for four further projects to be consented and under construction, with a large number of developments in the pipeline.