Published: 16 March 2023

16 March 2023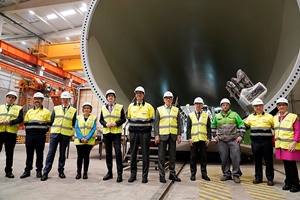 Scottish Power, an Iberdrola group company, and Haizea Wind Group have signed a framework agreement worth over €200 million for Haizea Bilbao to supply 50 monopiles to the East Anglia Three offshore wind farm in the UK from its facilities in the Port of Bilbao, Spain. Haizea Bilbao will be responsible for the supply of materials, the engineering of the manufacturing process and monopile production.
At present, the Group's manufacturing plant in the Port of Bilbao, Haizea Bilbao, has 48,800 square metres and 500 workers. After signing this latest contract with Iberdrola, Haizea Bilbao's plant will now be enlarged to over 200,000 m2. This expansion has meant broadening the scope of the existing concession granted by the Port Authority. In addition to the three existing warehouses, Haizea Bilbao will build another three, and a new additional storage area to accommodate the monopiles before they are delivered to the transport vessels. In addition, the agreement will result in the creation of some 350 direct new jobs at Haizea Bilbao. With this agreement, Haizea Wind Group secures a workload in Bilbao in excess of €1.5 billion for the next 4 years.