Published: 06 February 2023

06 February 2023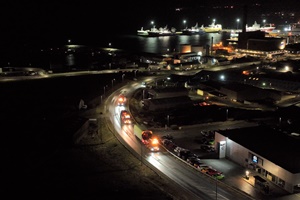 Convoys of wind turbine components for the Viking Wind Farm in Shetland got underway today from Lerwick Port to the Viking Wind Farm site in central Mainland Shetland.
Vestas, which is supplying the 103 wind turbines which make up the wind farm, is responsible for safely managing the process of getting the components from their factories to Lerwick and then delivering them from there to the Viking site. The first turbines at the Viking Wind Farm site are scheduled to be erected during March. The wind turbine component convoys are expected to conclude in July at the latest.